Tips & Advice
Help and Advice on Choosing a Training School + Money Saving Hints and Tips
For anyone with the time to browse through the information below, we've put together just a few points to explain how we go about things, and hopefully, a few ideas on saving money as well!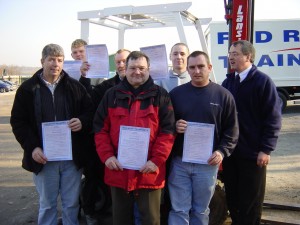 Finding the right training school can be a bit of a task, it's also a lot of money; and the last thing anyone wants to do is waste hard earned cash. The problem is, that making the right decision about which Training School to choose isn't always as easy as it might seem.
That's why we thought we'd put together this little guide to selecting a Training Organisation, to try and make the picture a bit clearer.
Naturally we'd like you to come to us, and we believe that you won't be disappointed, but we accept the fact that we can't always be the best for everyone in every situation, and if by picking up a few tips to help you choose safely, then even if it isn't us, at least, (hopefully), we've shown someone a less confusing way into the industry. Who knows, if we don't see you this time, perhaps we'll have the opportunity to put a few more strings on the training bow further down the line – Upgrades, Fork Lift, ADR, HIAB, CPC, DRIVER CPC, etc, etc.
There are many different aspects to a training package, and sometimes it's difficult to compare like-with-like because of the various ways that Training Deals are presented by providers.
So, to cut a long story slightly shorter, we want you to make the right choice – and these few paragraphs are designed to help you decide.
The Assessment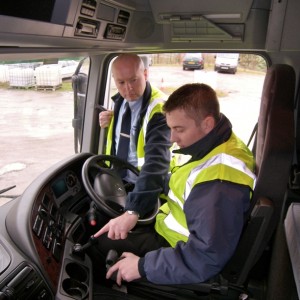 This is one of the most important aspects of the selection process – it is absolutely essential that a trainee's ability is assessed before a set course is selected. If time allows we would recommend that a client tries two or three different Schools before making a decision. Booking a course with a fixed number of hours without having been assessed should be avoided. Why? Well, as an example, let's say the average number of hours to pass a test is 20. To make up that average figure, many people will need only 16 or 18 hours, and roughly the same will need 22, or 24. So, if a client is booked on a 20 hour course without being assessed, even if we are being generous with the odd's, there only a twenty, or twenty five percent chance that the course duration will be suitable. Considering the amount of money involved in acquiring a driving licence, we think an assessment is essential to ensure a candidate receives precisely the amount of tuition required.
Another valuable part of the assessment process is meeting the Instructors, and at the same time, taking the opportunity of having a good look at the organisation of the Training School. Everyone needs to feel comfortable with their choice, and this is one more way of making sure that the correct decision is made.
Finally, a drive in the vehicle!!! Some vehicles simply don't drive as well as others, and even if some do, basic things like driving position – adjustability of the seats, etc – aren't always a trivial matter. For example, the last thing a Test candidate wants is for his foot not to depress the clutch fully at the end of a tense Driving Examination causing him to crunch a gear and for the examiner to put a cross on the fail sheet. An easy to use gear-box, smooth braking, good visibility, and comfortable steering are all very important factors to be taken into consideration and compared.
Training Hours
It's vital that Candidates are at their best throughout every single minute of the training program. Anything less than a fully alert, receptive, and focussed Trainee results in road-danger, errors, wasted time and effort – and of course money. Learning to drive requires a high level of concentration and calls for optimum attention. It is virtually impossible for a candidate to be able to maintain full-concentration during excessively long periods behind the wheel. Driving for more than four or five hours non-stop is a challenge even for an experienced driver. Consider the difficulties of doing the same whilst trying to learn! Mistakes become more frequent, frustrations build, and pre-fatigue progress becomes significantly reduced by errors. In short, over-training can undo all the achievements of a balanced duration lesson. Where possible, avoid lessons arranged for the convenience of the Driving School, rather than lessons planned to fit your timetable.
One-to-Two Tuition – Three in a Cab
We thought that this type of Training had become extinct many years ago, but no, it's not! Whilst there are some benefits to the Trainee observing another candidate make mistakes, rest assured that the other Driver has been put under severe pressure from this method – despite how well the candidates get along with one and other, (if they did in the first place!). The fear of making a mistake in front of a third party is not one which helps people learn. This method of instruction is, once again, designed to make life simpler for Training School scheduling.
Open Pricing
One of the most difficult areas to make a direct comparison can be in the course price structure, especially in the case of Intensive Training. Just a few questions ought to make things clear. Firstly, ask if the fee's include VAT, and secondly if the Test Fee's and use of the vehicle on the day of the Test is included. Lastly, find out specifically how many hours of behind the wheel training are included in the price. Occasionally some schools are so frantic for business that they will simply undercut any genuine quote by say, £100 – for cash (of course). Be very careful of this type of offer, a good discount is attractive without doubt, but please be aware that businesses that are perhaps dodging a few obligations might care a lot more about the money than you passing the test.
Hazard Perception / Theory Training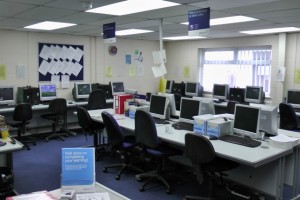 The Hazard perception and Theory Tests are now two separate examinations, and candidates must pass both these tests before we can book the Practical driving Test, (except for those candidates upgrading their licence). Schools have different approaches to training for these exams, and some people do prefer to work and study under their own steam. However, without training on the Hazard Perception Element and The Theory Test well over 75% of Trainees fail this examination first time! Red Rose offer a Classroom based Tuition Solution to help candidates through these tests. Our Pass rate is over 95%, and this course which runs weekly is completely FREE.
If studying alone, or in the home environment is not the ideal atmosphere to help you pass exams, then we would strongly urge you to choose a school which offers help in this vital area.
Flexibility
Even if you are only slightly unsure as to which type of Course, or which provider is best for you, and you don't have to book an Intensive Course, consider booking a lesson or two over a few weekends. This way, if you are happy with the arrangement, you can continue with it – no problems. Alternatively if you are happy with your provider and the tuition, but would prefer to finish the training in a week or less, ask your Training School to alter your program of lessons to an Intensive Program of Tuition leading up to a test. Unfortunately, if you book a one or two week intensive course, and discover after lesson one that you aren't happy, you are stuck! Try to leave yourself this exit route.
Discounts
To be fair, the price of fuel and the increasing cost of wages don't encourage many offers! Despite this, discounts may be possible from some providers, but don't be too disappointed if a school can't reduce the rate by a substantial amount. Quite a few will allow discounts against further training, and some, like ourselves, can offer very attractive Free or at least heavily discounted rates for things like Fork Lift Truck, ADR, HIAB and Driver CPC Training – just ask. Occasionally we may have some Standby Training Discounts, which could further help your budget, please ask.
The Medical and Paperwork – we can Help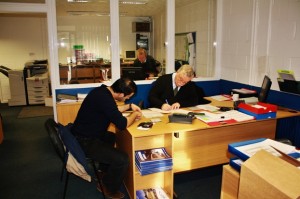 Form filling is easy for some, not for others, and some people simply don't have the time to do this sort of thing. Before undertaking any LGV or PCV Driver Training, you must first obtain provisional driving licence entitlement in your chosen category. Prior to this entitlement being granted, candidates will need to undergo a straightforward Medical Examination. This isn't a complicated procedure, and we can complete all the paperwork here at our Head Office. Simply call to arrange a convenient time and we will reserve an appointment with our GP who will see you after we have done all the necessary form-filling for you. It couldn't be easier.
If you need help just call us or use the contact form here
Money Saving Hints and Tips From Red Rose Training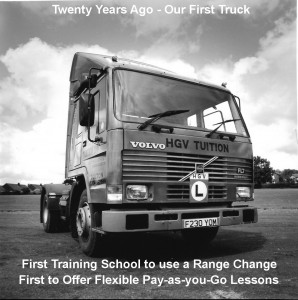 Our Philosophy is simple; we want our clients to pass their test for as little money as possible, with the minimum of fuss and disruption, and at their own pace; whether that's quickly as possible, or in a more leisurely manner over a few weeks or months. That is the most important thing for us as Training Providers.
Our reputation is very important to us, and satisfied Clients are our best advertisement. That's why, when Trainees enroll with Red Rose they know that we are on the same side; there is no conflict of interest between what's thought by some Schools as good for business – more training hours – and what's good for the trainee – the correct amount of training hours. We like candidates to be ready for their test, plus just a little bit extra to guard against nerves kicking in, or a kerb suddenly lunging towards a rear wheel! No more than that. When we have a happy Client, we hope they will tell their friends about us, and may be come back to us again. We are in this for the long term, and have been here for over twenty years already.
Aside from any discounts out there it is another way of keeping Course Costs to a minimum, a way of arranging your own price reduction.
How? Well, one of the major factors in bringing back a Pass Certificate from a Driving Test is preparation, and it's the same principal for a driving lesson.
Of course we'll always tell a Trainee to put both hands on the wheel, not to leave one hand on the gearstick, check their mirrors, don't drive too fast or too close and so on during the course of a lesson, etc, etc. These are the standard concentration and preparation problems that happen from time to time. The frustration with these type of mistakes is that they are so easy to correct, and could easily be remedied by the candidate themselves. If trainees arrive with correct driving practice firmly in place, the core lesson will be spent teaching new techniques appropriate to a larger vehicle. And hard earned cash won't be changing hands for teaching something that can be self taught, on your own time!
Tip One – Educate/Re-educate yourself!
The next time you're out driving, try to put yourself under Test conditions. Start looking at the speed limits, drive within them! Turn-up the rear-view mirror, use the wing mirrors, look into them every ten seconds, and keep the mirrors like that until you pass your test! As part of the test you'll have to reverse the vehicle into a space. Get yourself proficient at going backwards by not looking over your shoulder, just by using the wing mirrors.
Tip Two – Forward Planning.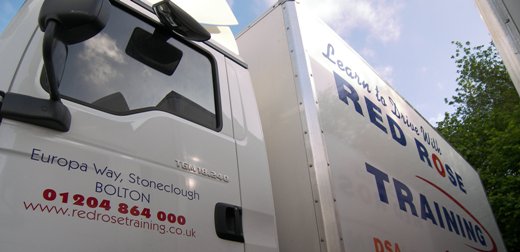 If there was a Forward Planning tablet, that would be the first one we'd prescribe. Driving a larger vehicle requires much more forward planning. Most car drivers look no further than the car in front, maybe 10 yards is an average figure. This is not an option for any Large Vehicle Driver. Start driving your daily transport as much as you can like a larger vehicle. Check the road not only 15 yards in front, but 30 and 50 yards. Aim to be on the roundabout by easing onto it rather than driving up to it and stopping. Time your arrival to coincide with a gap. We know that can't always be done, but try.
The Examiner most of all wants a safe drive. No one will get a licence that looks less than safe, even if they drive superbly over 90% of the test, the Examiner must feel comfortable with the candidate and confident that they are in complete control. People who manoeuvre, brake, change gears, etc, at the last moment are not planning ahead, therefore they are not totally safe.
Tip Three – Anticipation.
Similar to Forward Planning, but not quiet the same. Once you've started to feel more comfortable through re-education and forward planning, it's time to think about what could happen on the road, as well as what is happening. When you've arrived at the roundabout, perfectly positioned and at the appropriate moment, keep an eye on the driver indicating to leave at the exit before you. He might have forgotten to cancel his indicator, or he might be indicating too early for his exit. If he's looking like he's not altering his course, or looks a little nippy for the turn, you might anticipate he's not going to do what he's telling you he's going to do. The same with the driver in front who's obviously missed a pelican crossing going to amber because he's on his mobile. You should be anticipating he's going to slam his brakes on, any second. Driving larger vehicles with better visibility than in a car, sometimes you need to be driving for the other road users as well! It's all part of reading the road.
These three aspects of training are not driving elements, they're mostly common sense and as such candidates can help themselves immensely – on their own time if they choose to. If Trainee's help themselves by arriving for the lessons correctly prepared, in the right frame of mind and Correct Driving Practice is second nature, then driving time will be spent on learning new techniques for the driving of Larger Vehicles, and it will be a much easier and pleasurable – and cheaper – experience!
Tip Four – Reversing.
Slightly more difficult for trainees learning to drive an Articulated vehicle than a rigid, but there are some self-help, cost saving plans! If you've already familiar with the opposite-lock principal, then don't worry at all. However, if you're not too confident and you have a caravan or trailer, or can beg, borrow, or steal one, spend an hour or two reversing into a parking spot – or however long it takes to perfect the manoeuvre – using that opposite-lock principal. When you can do that, five times out of five, stop; then try it again a few days later, if you do the same straight away, the penny has dropped. That way we won't have to spend much more than an hour or so getting you used to the extra length of our trailers. The longer a trailer, the slower it moves across, so you can make a mistake or two and correct it; they are much more forgiving than a caravan or small trailer. There is no point paying us to teach you something you can teach yourself!! If you have grasped the principal, we'll polish the technique, and concentrate on going forwards!
Tip Five.
Call us, or Pop-Down and see us!!! We're here to help!!