CPCS Green Labourer Card Course for the Construction Industry
CSCS Green Labourer Card Course
01204 864000
CSCS Green Labourers Card
CSCS Green Labourer Card Courses for the construction Industry in Manchester, Bolton Lancashire and the North West
This one-day course is designed for those who are about to work or have just begun to work in the Construction and Civil engineering industry – to understand the potential hazards they face in their daily role.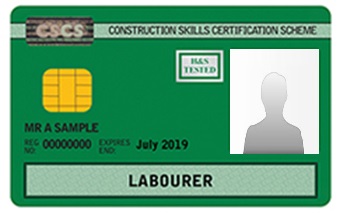 Health and Safety awareness is critical to site safety and it is important that safety training courses are undertaken by all the workforce on a construction site. The Green CSCS Card is a must for labourers on any site, with stringent checks being carried out regularly.
How do you get the Card?
Follow these three simple steps:
1)    Pass the one day Health & Safety Course– courses available weekly. Call For Availability
2)    Pass the CITB Health Safety & Environment test for operatives.
3)    Call 0344 994 4777 e-mail a copy of your certificate In Health and Safety to the CITB and pay £36 using a credit or debit card. Your CSCS card will be posted out to you on the next working day.
This card is valid for five years.
Watch this video or call 01204 864000 for help
CSCS Card scheme explained 
The CSCS card which is issued by the CITB (Construction Industry Training Board) is being demanded as proof of competence by major organisations and employers in the construction industry. CSCS cards provide proof!
CITB Site Safety Plus Courses
We offer a full range of courses including the one day Health & Safety Awareness, the two day Site Supervisors Safety Training Scheme (SSSTS) and The five day Site Managers Safety Training Scheme (SMSTS). Other courses are also available.
Call:  01204 864000