Red Card Blue Card
Red Card to Blue Card NVQ – How to get your CPCS Blue Card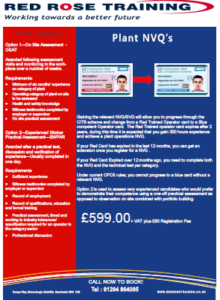 To progress through the CPCS card scheme, you must complete an NVQ to upgrade from a Red Trained Operator card to a Blue Competent Operator card. You cannot simply re-take your test and get another Red Card, so to keep your CPCS card you must get an NVQ to stay employed on site. A plant NVQ can be achieved in two ways:
On site Assessment – OSAT
This is a work based qualification, delivered through a minimum of two on site assessment visits over a number of weeks. One of our team will visit you at your place of work to assess your competence in a work environment on particular items of plant. Based on information from these visits a portfolio of evidence will be complied. Collected evidence will include Method Statements, Time sheets, etc.
Experienced Worker Practical assessment route – EWPAR
This route offers experienced workers a way of achieving an NVQ who either don't have access to a working site or prefer to demonstrate their skills by a practical test rather than by on site assessments. As with the onsite option it is designed for experienced workers who do not require any further training. The assessment method combines the use of a professional discussion with questions and answers, a practical assessment/test, employer endorsement and witness testimonies. This is carried out at our Training Centre – usually over one day or weekend.